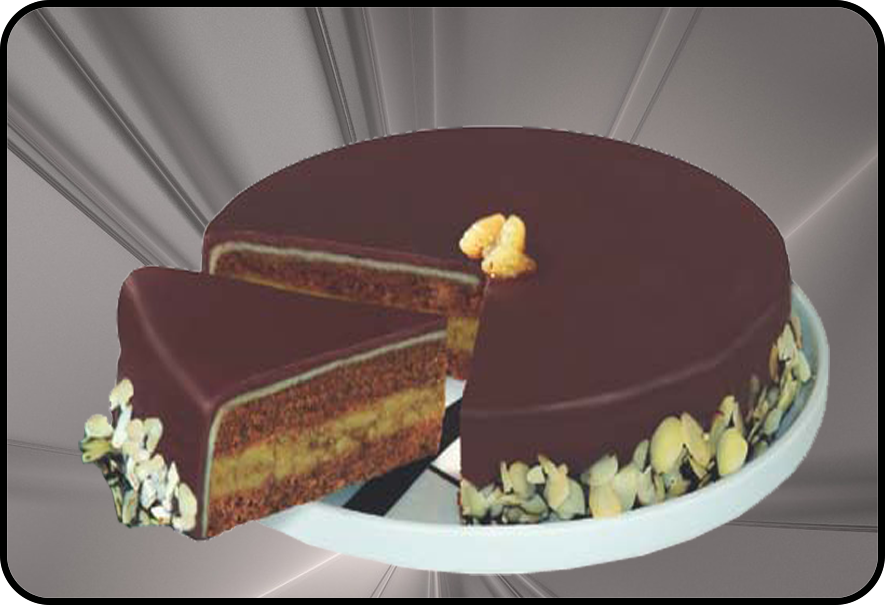 Produktinformation
Produkteigenschaften
Shape: sperical
Colour: dark brown
Taste/smell: typical of chocolate and apple marmelade
Weight: 600 grams
Inhalte
Wheat flour, sugar, rye flour, corn starch, dried dairy products (lactose, vegetable and milk proteins, vegetable and animal fat, dried corn syrup, hydrogenated vegetable oil, nature-identical aroma), E500 , E450 (funds intended for the increase), cocoa, gingerbread spice (fennel, coriander seeds, cinnamon), vegetable oil, water, E150c (color), fruits ((apple), glucose syrup, water, modified starch E1442, E300 antioxidant, regulator acid E330, preservative E202, natural identical flavors (apple)), marzipan (sugar, almonds, E420 (stabilizer), E466 (thickeners), E330 (acidity regulator), invertase), chocolate topping (sugar, hydrogenated vegetable oil, cocoa powder with low-fat, vegetable fat, whey, E492, E476 (emulsifier), E322 (sunflower-lecithin), flavorings), almond flakes, glucose syrup, sugar, water, E406, E440ii (means for gelling), aroma (apricot ), E330 (acid), E331 (acidity regulator) E202 (preservative).
Nährwerte
(in 100 g des Produktes)
| | |
| --- | --- |
| Energy value sampler | 1427,04KJ |
| Protein | 5,00g |
| Carbohydrate | 45,77g |
| Fat | 14,20g |
| Dry matter | 67,17% |
Lagerbedingungen
Aufbewahrung: auf -18°C bewahren.
Hinweis: einmal aufgetaut das Produkt darf nicht wieder gefroren werden!
Ablauffrist auf -18°C ist 18 Monate
Gebrauchsanweisung
Gdie Verpackung öffnen, im Kühlschrank das Produkt 4-5 Stunden auftauen lassen oder auf Zimmertemperatur 1-2 Stunden.
Nach dem Auftauen das Produkt im Kühlschrank auf +4°C höchstens 5 Tage lagern.