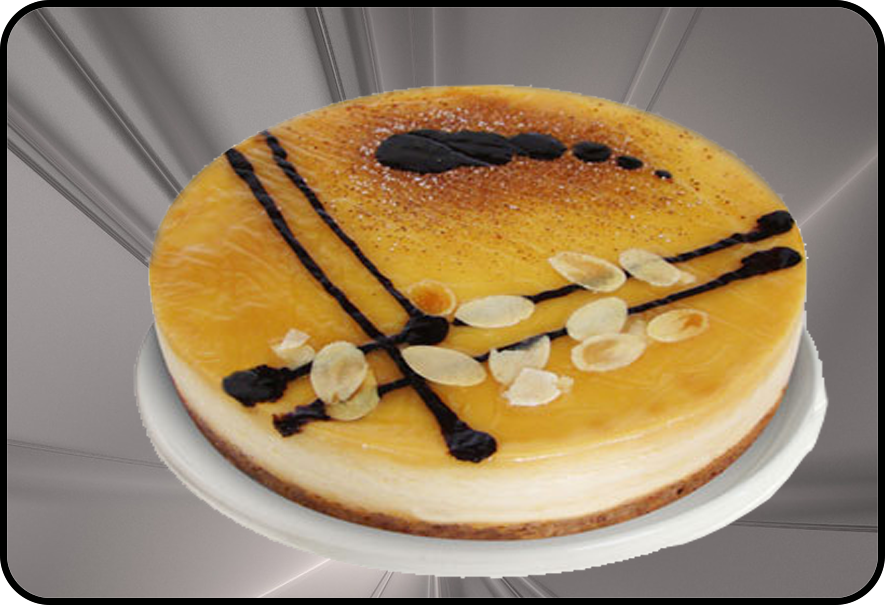 Produktinformation
Produkteigenschaften
Shape: sperical
Colour: caramel
Taste/smell: typical taste of cheese,cinnamon,apple
Weight: 600,990 g
Inhalte
Deli cheese cake (cream cheese , water ,sugar, glucose syrup , whole egg, egg white, modified starch, thickener: microcrystalline cellulose, carboxy methyl cellulose , xanthan gum, acid: lactic acid , natural flavouring, emulsifier: mono and diglycerides of fatty acids , preservative: potassium sorbate, salt, antioxidant: rosemary extract , tocopherol -rich extract), apple filling (apple, sugar, water, thicener and gelling agent- modified corn starch and pectine, acidity regulator- citric acid, perservative- potassium sorbate, flavor, ), wheat flour, vegetable fat (palm), gluten, sugar, raisin agent (disulphite ), almonds, flavor, water, antioxidant (E320,E310), glaze (water, sugar, gluco-fructose syrup, gelling agent (pectin), citric acid, antioxidant (potassium meta bisulphite).
Lagerbedingungen
Aufbewahrung: auf -18°C bewahren.
Hinweis: einmal aufgetaut das Produkt darf nicht wieder gefroren werden!
Ablauffrist auf -18°C ist 18 Monate
Gebrauchsanweisung
Gdie Verpackung öffnen, im Kühlschrank das Produkt 4-5 Stunden auftauen lassen oder auf Zimmertemperatur 1-2 Stunden.
Nach dem Auftauen das Produkt im Kühlschrank auf +4°C höchstens 5 Tage lagern.