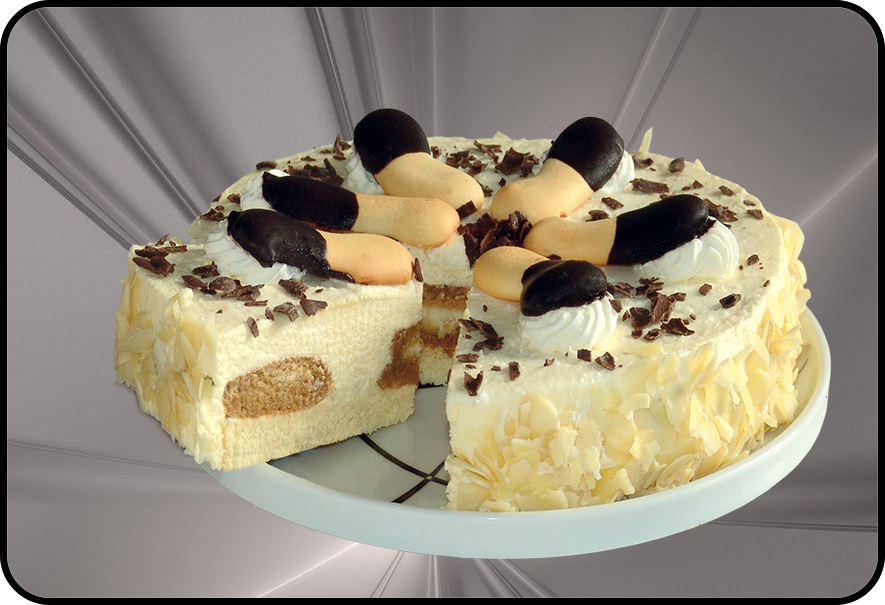 Product Information
Product Characteristics
Shape: Round
Color: white
Taste & smell: characteristic for chocolate and coffee
Weight: 600g
Contents
Milk, water,  fully hydrogenated palm oil, sugar, stabilizers: sorbitol, microcrystalline cellulose, sodium carboxymethylcellulose , emulsifiers: lactic acid esters of mono- and diglycerides of fatty acids, mono- and diacetyl tartaric acid esters of mono- and diglycerides of fatty acids, soybean lecithin, milk protein (sodium caseinate), aroma, acidity regulators: potassium phosphates, sodium citrates, colour: beta carotene, skimmed milk powder, gelatine (pork), modified starch E 1414, glucose syrup, salt, butter, colour: caramel plain; wheat flour, powdered eggs, corn starch, whey powder, raising agent: disodium diphosphate, sodium carbonate, ammonium-carbonate; dextrose, emulsifier: propane-1,2-diol fatty acid esters, thickener xanthan gum, colour: lutein; hydrogenated vegetable fat, cocoa powder with reduced cacao butter content, aroma vanilla; coffee, refined sunflower oil.
May contain traces of sesame seeds and products thereof, tree nuts and products thereof.
Nutritional values
(in 100g of product)
| | |
| --- | --- |
| Calories | 1142 kJ /273 kcal |
| Total fat | 13.3 g |
| Saturated fat | 10.3 g |
| Total Carbohydrates | 33.8 g |
| Sugars | 24.1 g |
| Proteins | 4.6 g |
| Salt | 0.2 g |
Storage Conditions
At a temperature of – 18 C degree
Note: Once defrosted product do not refreeze
Expiration date defrosted cake up to +4 OC is 5 days
Instructions for use
Before using, remove the packaging and defrost the cake: in refrigerator for 3-4 hours, at room tempearture 1-2 hours.
Keep the cake in the refrigerator at +4°C and consume within 5 days after defrosting.