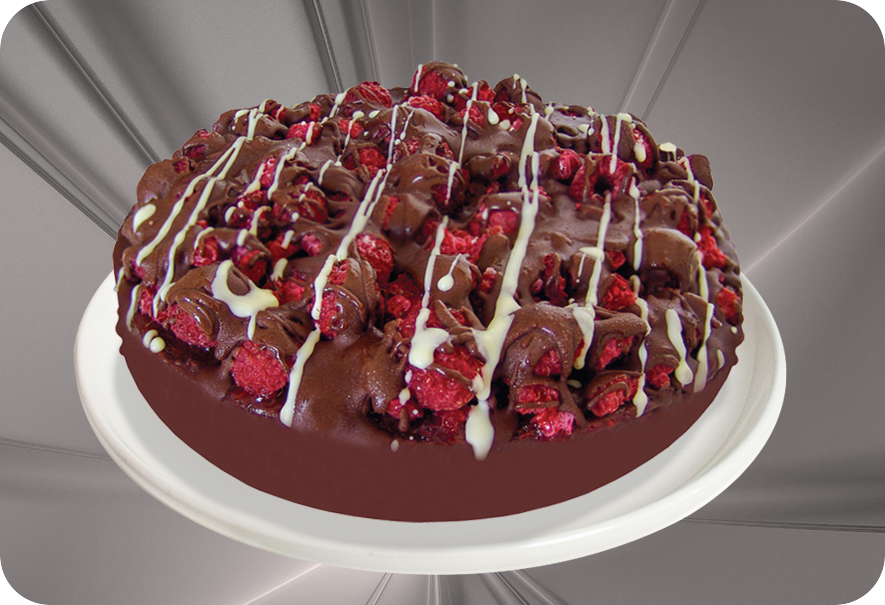 Product Information
Product Characteristics
Shape: round
Color: brown and red
Taste & smell: characteristic for raspberries and chocolate
Weight: 600g, 1200g
Contents
Sugar, wheat flour; raspberries; water; sunflower oil; raspberry jam (raspberry bits, apple puree, sugar, thickening agents: pectins, acidity regulators: citric acid); cocoa mass, cocoa butter, emulsifier: soybean lecithin, natural vanilla aroma, hydrogenated vegetable fat, cocoa powder with reduced cocoa butter, chocolate powder, corn starch, dried alkaline cocoa powder, egg powder, whole milk powder, whey powder, modified potato starch, raising agent: acid sodium pyrophosphate, sodium bicarbonate; emulsifiers: mono and diglycerides of fatty acids, sodium stearoyl-2-lactylate, aroma, stabilizer: sodium carboxymethyl cellulose, guar gum, kitchen salt.
May contain traces of sesame seeds and products thereof, tree nuts and products thereof.
Nutritional values
(in 100g of product)
| | |
| --- | --- |
| Calories | 1507 kJ /365 kcal |
| Total fat | 21.8 g |
| Saturated fat | 6.6 g |
| Total Carbohydrates | 36.7 g |
| Sugars | 27.5 g |
| Proteins | 5 g |
| Salt | 0.24 g |
Storage Conditions
At a temperature of – 18 C degree
Note: Once defrosted product do not refreeze
Expiration date defrosted cake up to +4 OC is 5 days
Instructions for use
Before using, remove the packaging and defrost the cake: in refrigerator for 3-4 hours, at room tempearture 1-2 hours.
Keep the cake in the refrigerator at +4°C and consume within 5 days after defrosting.